Training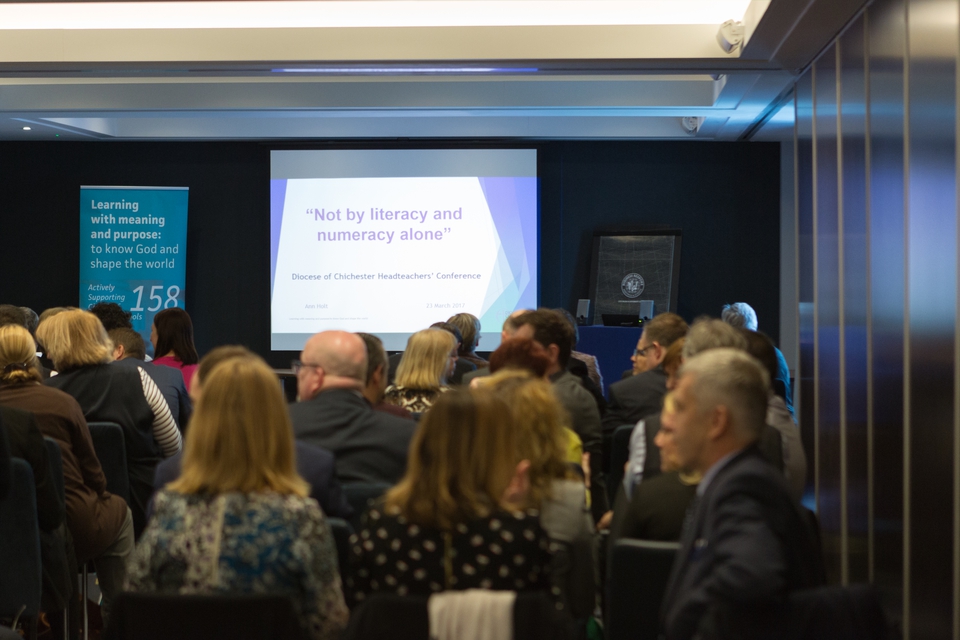 With the steady decline in low cost, high value support for schools, we, in the Diocese of Chichester, are pleased to be able to offer visits, reviews, mentoring, coaching and CPD opportunities across the diocese in the year 2019/2020.
This year the Training Programme will be published on line - see below. However hard copies of the Diocese of Chichester's Course Planner which outlines all the Education Department will be offering over the academic year will be sent to each school. All the flyers for training courses and events will be online and booked through Eventbrite. This will be supported in greater detail in our Education monthly E-News. Please ensure you do get these emails. They are sent out to every headteacher and from September every Clerk to Governors (to forward to all governors) on the first working day of every month. Some headteachers have found them appear in their junk or spam but we do send these emails out to every school where we have up-to-date email addresses.This is a vital part of our communication strategy so please do check.
We are particularly keen to provide opportunities in this era of school to school support to provide occasions on which you can meet each other and share ideas. This is why we run RE and Governor Networks and why we are supporting the Peer Group Networks run under the auspices of the Church of England National Foundation for Education.

Go to the Diocese of Chichester Education Department EVENTBRITE page to see all the flyers and to book your place.
Christian Distinctiveness and RE Training Courses
EFFECTIVE RE SUBJECT LEADERSHIP
D1 Thursday 21 November 2019 10.00 - 16.00 CH, Hove
D2 Thursday 2 July 2020 09.00 - 12.00 CH, Hove
WORSHIP THAT WORKS
Monday 23 March 2020 10.00 - 14.30 CH, Hove
RE for NQTs
D1 Tuesday 15 October 2019 09.00 - 12.00 CH, Hove
D2 Tuesday 11 February 2020 09.00 - 12.00 CH, Hove
ENQUIRE INTO WORLD FAITHS
Enquire into Islam
Thursday 23 April 2020 10.00 – 15.30 CH, Hove
SECONDARY HEADS OF RE CONFERENCE
Wednesday 11 December 2019 10.00 - 15.00 CH, Hove
SPIRITUAL DEVELOPMENT
Thursday 5 March 2020 10.00 - 16.00 CH, Hove
USING UNDERSTANDING CHRISTIANITY to DELIVER HIGH QUALITY RE
EYFS & KS1
Tuesday 17 March 2020 10.00 – 16.00 CH, Hove
KS2
Thursday 21 May 2020 10.00 – 16.000 CH, Hove
RE NETWORK MEETINGS - All meetings 16.15 – 17.45
Central
Spring Monday 3rd February 2020 St Andrew's CE Primary, Nuthurst
SummerMonday 8th June 2020 St Peter's CE Primary, Henfield
East
Spring TBC Guestling-Bradshaw CE Primary
SummerThursday 11th June 2020 Christchurch CE Primary, St Leonards
West
Spring Wednesday 5th February 2020St Margaret's CE School, Angmering
Summer Thursday 25th June 2020 Arundel CE Primary School
LEAVERS' CELEBRATIONS 2020
Flyer Doc Format
Flyer PDF Format
| | | |
| --- | --- | --- |
| St Matthew's, St Lnrds | 26 June | 10.15 & 13.15 |
| All Saints, Crowbrgh | 30 June | 10.30 & 13.15 |
| Chichester Cathedral | 2 July | 10.30 & 13.15 |
| Chichester Cathedral | 3 July | am full & 13.15 |
| St Andrew's, Eastbrne | 8 July | 10.30 |
| Worth Abbey | 9 July | 10.45 & 13.30 |
| Lancing Chapel | 10 July | 10.30 & 13.15 |
Leadership, Succession Planning and Governance
LEADERSHIP AND MANAGEMENT
CURRICULUM DESIGN
Wednesday 8 January 2020, 10.0 – 16.00, CH, Hove
DEPUTY HEAD TO HEADSHIP
Tuesday 14 January 2020, 10.00 – 16.00, CH, Hove
HEADTEACHERS' CONFERENCE
Friday 27 March 2020 9.30 – 16.30, Ashdown Park Hotel
ANNUAL QUIET DAY
Friday 5 June 2020, 9.00 – 16.00, West Dean College
LEADERSHIP AND GOVERNANCE
ADMISSIONS APPEALS PHONE IN SURGERY
Monday 10 February 2020, Appointments
NEW SIAMS SCHEDULE
Friday 24 January 2020, 09.00 – 12.00, CH, Hove
VALUING ALL GOD'S CHILDREN
Tuesday 3 March 2020, CH, Hove
MOVING FORWARD AS AN EFFECTIVE CHURCH SCHOOL
Session1: Vision
Friday 18 October 2019, 09.00 – 12.00, CH, Hove
Session2: Provision
Tuesday 19 November 2019, 09.00 – 12.00, CH, Hove
Session 3: Impact
Wednesday 4 December 2019, 09.00 – 12.00, CH, Hove
GOVERNANCE

SAFEGUARDING FOR CHURCH SCHOOL GOVERNORS
Monday 18 November 2018, 18.00 – 20.00, CH, Hove
Tuesday 28 April 2019, 18.00 - 20.00, CH, Hove
GOVERNORS' NEW TO CHURCH SCHOOLS
November 2019 17.00 – 19.00 East
Tuesday 14 November 2019 17.00 – 19.00, Dresden Room, Canons Place, Chichester
Tuesday 10 March2020 17.00 – 19.00, CH, Hove
Wednesday 1 July 2020 17.00 – 19.00, CH, Hove
June 2020 17.00 – 19.00 East
Monday 22 June 2020 17.00 – 19.00, Dresden Room, Canons Place, Chichester
BEING AN EFFECTIVE CHURCH SCHOOL GOVERNOR – REFRESHER
Monday 9 December 2019, 17.00 – 19.00 CH, Hove
Tuesday 19 May 2020, 17.00 – 19.00 CH, Hove
NEW TO CHAIRING A CHURCH SCHOOL GOVERNING BODY
Tuesday 9 June 2020, 17.00 – 19.00, CH, Hove
GOVERNORS' NETWORK BRIEFING
Tuesday 16 June 2020, 18.00 – 19.30, Bishop Hannington Memorial Church, Hove
NEW TO CLERKING A CHURCH SCHOOL GOVERNING BOARD
Monday 25 November 2019,10.00 – 12.00 CH, Hove
Wednesday 6 May 2020, 15.00 -17.00, CH, Hove